What are the best lunches for teen athletes to maximize their athletic performance?  Many young athletes need upwards of 2500 to 4000 Calories per day, or more if they are trying to gain mass.  Lets explore how a teen athlete can pack and eat enough to fuel their athletic performance during a busy school day, before they head out to practice.  If you are tired of sandwiches and looking for new lunch ideas, keep reading for the top lunches for teen athletes.
Timing Snacks and Lunches in High School
High school athletes have the unique challenge of needing to eat more often during growth spurts, yet they don't get breaks between classes.  Most high school teachers are flexible about students having discrete snacks during class.
All athletes should plan to take snacks to class, in order to make sure they are eating every 3 hours.
High school lunch breaks can vary from 11:30am to 11:50pm, which can create long gaps between meals, snacks and practice.  I often find that students with an early lunch break will skip the morning snack and students with a late lunch break will skip their afternoon snack.
Ideally, all athletes plan to have both a morning snack and afternoon snack so they are eating every 3 hours.
What about Breakfast?
We know that athletes perform better in afternoon practices when they have breakfast as well as lunch beforehand.  Check out my list of 18 high protein breakfast ideas to boost your athlete's mood, focus, learning and athletic performance.
Tips for Packing Athlete Lunches
Whether you still pack your teenager's lunches or they are doing it on their own, it can be a chore to pack lunches.  Here are some practical tips for packing athlete lunches to turn frantic stress into an easy routine when you pack the best lunches for teen athletes.
Plan lunches for the week and write a list.
Grocery shop with your list.
Put out the lunch containers the night before. Have everyone put their clean and empty lunch containers, lunch bag and water bottle on the counter the night before.  This saves you rummaging around their school bags to fish out the dirty thermos that you need.  If you can make emptying and cleaning their lunch bag a part of their daily routine when they get home, it really reduces the frantic scramble later.
Pack lunches ahead of time.  Mornings can be so chaotic, that we are practically throwing toast across the kitchen at our kids! It is hard to make decisions and put a lunch together while we are all scrambling to get out the door with school bags and sports gear.  We know the lunch will be healthier, better and easier to make if we make it ahead of time.  If you prefer to make lunches in the morning, try doing it before you shower and you have the kitchen to yourself.
Best Lunches for Teen Athletes
If you have a long day with long practices after school, you need to pack enough to fuel you throughout the day. How do we ensure our child is getting the right foods to fuel their performance and their growth?  Here is a simple rule of thumb that will ensure your athlete has all the nutrition they need for their development.
An Athlete Lunch Bag Includes 4-5 Foods:

Fruit

Vegetables

Main (includes protein and grains)

Fat e.g yogurt, cheese, nuts and seeds, hummus, nut butter

Extra snacks*
Examples of Athlete Lunches Include:
Pita + hummus + air fried chicken + bell peppers + cantaloupe
Tortellini salad + pineapple + snap peas + yogurt cup
Chicken salad wrap + oranges + carrots + nuts
Turkey cheese sliders + grapes + tomatoes + apple crumble + yogurt
Pack Extra Snacks in Athlete Lunch Bag on Long Days*
You may need to pack extra food to fuel your afternoon practice.  Depending on when your athlete comes home from school, you may need to pack extra snacks for before and after practice. If they have a practice from 4-6pm, include a 3pm pre-practice snack and a 6pm recovery snack.  For these long days, we need to consider what food is easy to pack, carry and will last the whole day.
Water Bottle, too
Young athletes need to drink 1-2 litres of water, juice or milk a day plus an extra 2 cups for every hour of training per day.  That means they should fill their water bottle 2-3 times per day.  Yes the fluid from juice, milk and smoothies counts towards their fluid intake too.  We don't count high sugar drinks like pop, energy drinks or preworkouts because they do not have a hydrating effect.
Tips for Long Days
Freeze it. Take a frozen chocolate milk, smoothie, overnight oats or yogurt parfait, and it will have melted and be chilled by afternoon practice.
For more on how milk and chocolate milk can help athlete growth and strength, see this article on What Milk is Best for Young Athletes.
Pre practice snacks
Snacks before practice should be high in carbs like yogurt parfait, banana bread, overnight oats, muffin or energy balls.
Post practice Recovery snacks
Recovery snacks should have mostly carbs with a little protein such as peanut butter toast, banana with milk or chocolate milk, smoothie, yogurt, cereal, granola bar or a sandwich.
Athletes need to have a recovery snack within 30 minutes of every training session, so packing a snack to have after practice is key.

Fast Snacks for Teen Athletes
Homemade Snacks:
Homemade muffins or banana bread
Overnight oats jars
Shaker cup for protein shake
Homemade pizza
Yogurt parfait
Apple crumble with greek yogurt
No bake energy balls
Fast Snacks:
Pita + hummus
Whole grain crackers + guacamole
Veggies + tzatziki
Fruit + yogurt
Whole grain Cereal + milk
Celery + peanut butter

Convenience Items:
Instant oatmeal in cups
Chicken vegetable wontons
Frozen burritos
Frozen egg bites
Fruit sauce cups
Premade Smoothies
Guacamole cups
Tzatziki dip
Hummus cups
FREEBIE
Easy Athlete Lunch Ideas Printable
Subscribe to my monthly newsletter and get your free printable!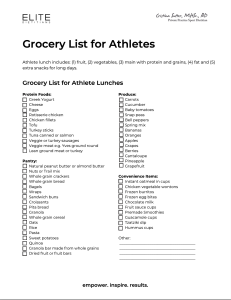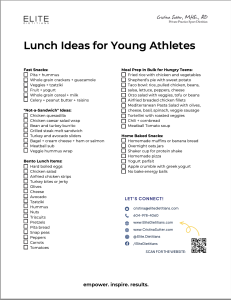 Best Lunches for Teen Athletes
Variety is Key
Everyone gets tired of sandwiches at some point, so we can all use some fresh lunch ideas. Whether you still pack your kids' lunches or they are doing it on their own, click here for a printable Grocery List and Lunch and Snack Ideas for young athletes.
Not a Sandwich, Sandwich Ideas:
Chicken quesadilla
Chicken caesar salad wrap
Bean and turkey burrito
Grilled steak melt sandwich
Turkey and avocado sliders
Bagel + cream cheese + candied salmon
Meatball sub
Veggie hummus wrap

Bento Lunch Ideas:
Hard boiled eggs + Triscuits + tomatoes + cheese
Pita bread + Olives + hummus + peppers
Celery + peanut butter + raisins + pretzels + snap peas
Turkey bites + sweet potato rounds + carrots + tzatziki
Avocado + candied salmon + flatbread + cucumber
Airfried chicken strips + tzaziki + carrots + pita chips

Meal Prep in Bulk for Hungry Teens:
Shepherd's pie with sweet potato
Taco bowl: rice, pibil, beans, salsa, lettuce, peppers, cheese
Orzo salad with broccoli, carrots, tofu or beans
Airfried breaded chicken fillets
Pasta salad mediterranean style with olives, cheese, basil, spinach, veggie sausage
Cold tortellini, pasta, vegetable salad
Chili + cornbread
Meatball Alphabet soup
Fried rice with edamame, chicken and vegetables
Get practical tools and tips that will make packing lunches and snacks for your young athlete a breeze.  Learn what snacks to have in the hours and minutes before a game and what snacks are best after practices and games. Get simple fueling strategies to help your athlete build muscle and perform their best.  Includes exclusive lists of best sport snacks, recovery snacks and meal plans for your youth athlete.